Welcome To CDF!
Community Development Finance is a 501c3 nonprofit organization located in California. Our mission is to assist low-income and very low-income households, communities and businesses with increased access to capital and financial literacy by offering below-market rate financial services and products to low-income, underserved and unbanked people in communities everywhere. It is also our mission to create new partnerships and assist other institutions in increasing access to capital in these neighborhoods.
CDF opened the first and only nonprofit, full-service, stand-alone check cashing store in the country in May 2009, in the Fruitvale neighborhood of Oakland, California.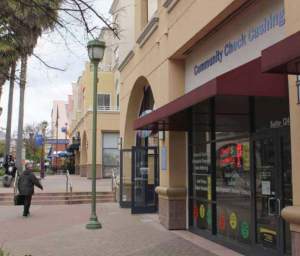 Until its closing in 2023, our storefront, called Community Check Cashing (pictured, left), offered below-market rates, minimal fees, and a broad range of financial services, including financial coaching and small business services — all designed to help low-income families move out of poverty. We operated the store on a social enterprise model: a nonprofit check cashing institution in which the check cashing services component of the operations are financially sustainable through earned revenue while using donations and grants to support the coaching, social services and administration.
CDF's programs have proven to save customers a great deal of money individually each year – we estimate an annual savings to the community of $150,000 to $200,000 from our lower prices and other services.  This amounts to at least $1.5 million in savings in the neighborhood since we opened in 2009.
CDF has been involved in many innovative programs in its short history through partnerships and developing new programs.  And, while CDF presently operates only one store, it has the potential for a much larger impact. We have extensive experience with lending programs, for example.  Based on this experience, CDF has developed a two-tier lending program that, with the appropriate support, potentially can reach a large scale, be operationally self-sufficient once it reaches scale, and offer fair products to replace predatory payday, car title and installment loans.  In addition, CDF is involved in various policy development efforts.